How to Start Your Own Professional House Cleaning Business from Home
Start Your Own House or Office Cleaning Business Today with this E-book
I recommend The Insider Way To Starting a Cleaning Business - Get straight to business with this guide.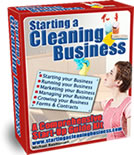 Must Have Books at amazon to Help You Start Your House Cleaning Business
Start and Run a Home Cleaning Business
Professional House Cleaning Businesses can be a very flexible position for a mom. It has low start-up costs. You get paid every day. Plus it keeps you in great shape!
Your options are endless:
Clean in the mornings before your kids go to school

Clean full-time

Open and manage a cleaning business with staff to do the day to day cleaning

Clean offices in a commercial setting

Clean homes and apartments
But, you want to know how to start your own professional house cleaning business from home? Start with these resources...
Article to Help You Start a Professional House Cleaning Business
How to Start Your Own House Cleaning Business